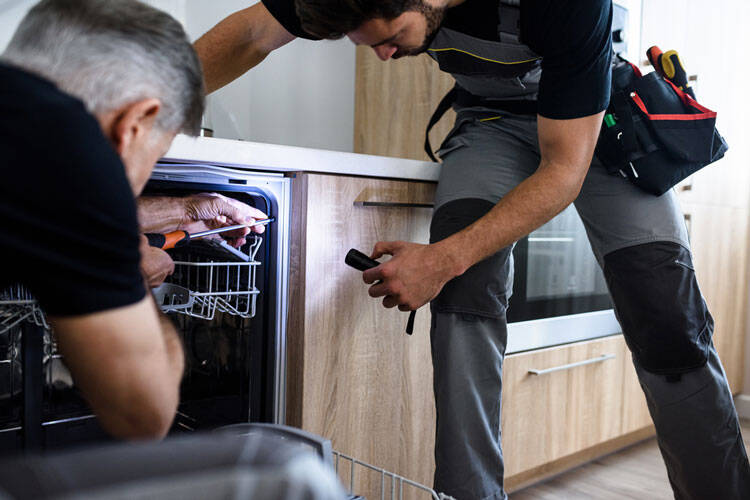 Several things can go wrong with your dishwasher. If you're familiar with some of these common problems, it can be easier to determine when to schedule a dishwasher repair service.
Leaking Spray Arm
If you notice water leaking from the dishwasher's spray arm base, it probably means that the hose connecting this component to your sink is either loose or disconnected. If you can stop up a nearby sink and determine that there's no blockage in the hose, then an expert needs to come to your home.
Without enough water pressure or pull, this hose will not deliver adequate cleaning power to the dishwasher's interior. When you set the machine up for its next run, you might notice that nothing happens when it should be spraying out soapy water onto dirty dishes.
Floating Door
The seal around the door helps protect the contents of your dishwasher from becoming wet. Without a seal that tightly hugs the door to your dishwasher, water can drip down into the machine's interior.
When you notice this problem, it could mean that your door isn't closing properly. If you happened to bump into the dishwasher when it was open, this could also cause the problem. Look for other signs like corrosion or rust on certain parts of your machine, and then take steps to fix the issue with an appliance repair technician before something breaks.
It Doesn't Get Your Dishes Dry
The water needs to be at a certain level to trigger the machine's drying process. If the water seems too moist or you notice pools inside your dishwasher after its cycle is complete, then this might be a sign that there's something wrong with the water pump.
If you notice this problem, it could be due to one or more clogs in the machine's drain hose. It might have been damaged from the excess pressure of a clogged filter.
Low Water Pressure
If your water doesn't have enough force behind it to push the soap through the spray arms, then soapy residue will remain on the dishes after they've been through the wash cycle. You can fix this problem yourself by using a hose or bucket to add more pressure behind the water coming out of your faucet until it's at an acceptable level.
If you notice this issue with your dishwasher, you might not be able to solve the problem yourself. You might need a dishwasher repair expert to come and install an additional pressure-boosting device on your home's water line.
Call D&J Appliance Repair When Your Dishwasher Needs Proper Attention!
When you notice these problems with your dishwasher, it's time to call a repair expert. The technicians working for D & J Appliance Repair have the skills and training needed to replace or fix any component of your dishwasher. When you hire us for our services, we guarantee a speedy response. Call 954-709-7400