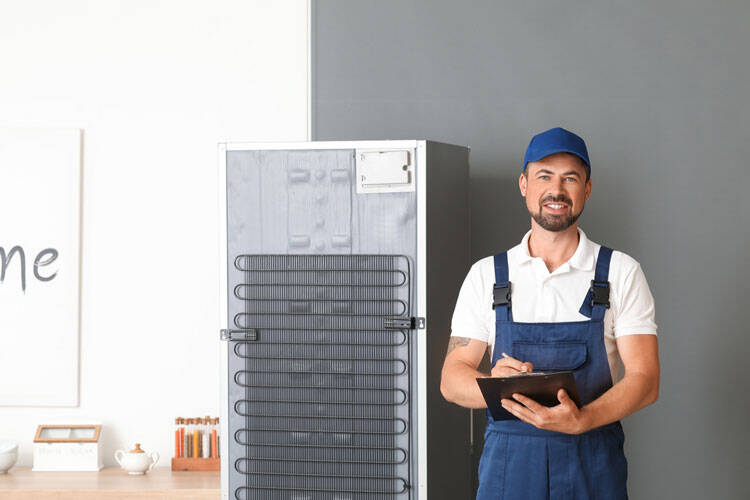 From storing your perishables to keeping your drinks cold, your refrigerator is hard at work 24/7, keeping your food and beverages cool and safe. When your refrigerator breaks down out of the blue, it can lead to many foods going to waste.
Keeping your refrigerator in perfect condition is crucial to ensuring its well-being and longevity in your home. If your refrigerator breaks down and you can't figure out what's wrong, it's a good idea to call for a professional appliance repair service that can come immediately.
Checking the Door Seal
Continual opening and closing of your refrigerator can cause the door seal (gasket) to wear down in no time at all. Your gasket can be hardened, weakened, or warped because of regular wear and tear. Check its condition once in a while, and when you feel like it's getting worn out, call a GE appliance repair service for a replacement.
Cleaning Regularly
No one likes a smelly and dirty refrigerator, and that includes your refrigerator as well. When you're looking to keep your fridge in working condition for a long time, cleaning it every few days is necessary.
Cleaning it more often saves you from smelling anything foul and keeps your fridge functional for a longer time.
Keeping It At Optimal Temperature
When you want your refrigerator to cool efficiently, keeping it at the right temperature is a must. Depending on the brand, you might have a number-based or a scale-based temperature setting function. Read through the manual to find out how to set it properly to optimal settings or consult a refrigerator repair service.
Keep Inside Vents Free
Your refrigerator's interior vents are what enable your food and beverages to be cool. You need to keep the vents clear when you want everything to be cooled optimally and don't want your fridge overheating.
Keep a little bit of space between all items to ensure all-around cooling.
Clean The Condenser Coils
Maintaining your refrigerator is crucial to keeping your fridge efficient. The condenser releases the heat generated from cooling the fridge and is usually at the back of the refrigerator towards the bottom.
Various debris like dust and hair can collect into the coils, making the condenser work harder to keep your fridge cool. The fridge should be turned off for this part to prevent any nasty shocks or preferably call an Appliance repair technician.
Consider a Maintenance Check
Whether you contact an LG appliance repair service or some other expert, you might have to give them a call when you think something is amiss with your refrigerator. Calling them as soon as you notice a problem can ensure you're not overspending on replacement parts later down the line.
D&J Appliance Repair Services For You
D&J Appliance Repair
Get dependable quality services to keep your refrigerator fully functional. When you're looking for a repair service that can come immediately to your doorstep, call D&J Appliance Repair. Whether it's your refrigerator or any other home appliance, our team of experts can come to your aid at any time. Call 954-709-7400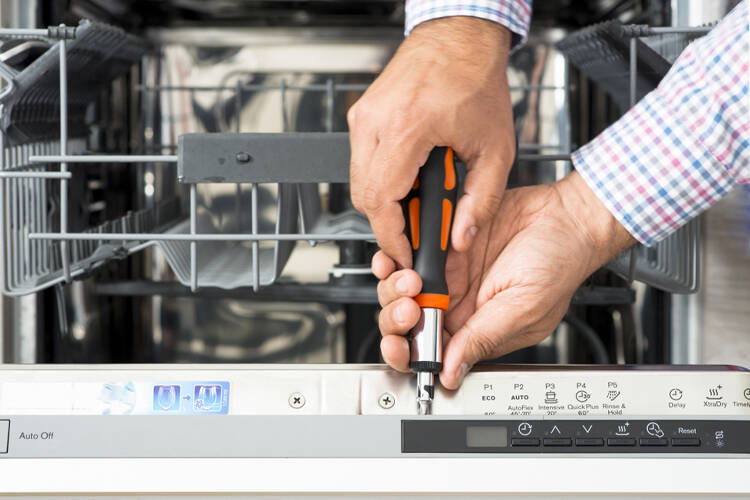 Home appliances need timely attention to run forever. If ignored for a long time, it may damage the appliance or cause even worse problems. The refrigerator is one such appliance that requires constant care and maintenance and timely services from professionals as it plays a vital role in your home.
If you notice that your unit isn't cooling enough, you've to call the refrigerator repair experts as soon as possible. Here are some reasons why:
The Refrigerator Needs Servicing
A refrigerator is designed to provide cooling for a certain period. So, if you've noticed that your unit isn't cooling enough, it's time to call the experts to service the unit.
Manufacturers claim that a refrigerator has to be serviced at least once in six months, while some other manufacturers claim that the unit needs a service once a year. Either way, when the unit isn't cooling enough, it indicates some problem with the refrigerator.
The Temperature Is Too High
If you've noticed that your fridge is not cooling enough and the temperature is too high, you need to call the experts immediately. If the temperature is too high at a certain level, it may spoil food items.
At times, the temperature goes too high that it may also damage the inner parts of the refrigerator as well as cause health problems to your family members.
The Fridge Unit Is Faulty
If you have a faulty refrigerator unit, your unit won't provide cooling adequately. In this situation, either the refrigerator can freeze everything on its way, or it may not cool enough to maintain the required temperature levels. So, it's important to check whether there is any fault in the fridge before calling the experts to avoid wasting time and money.
The Thermostat Is At Fault
Each refrigerator comes with a thermostat that controls the cooling process. So, if your unit is providing cooling well but not to the extent required, it might be because of a faulty thermostat. The fridge may take time to cool off if it's old or has been used for many years. A refrigerator repair technician can fix this by replacing the faulty thermostat.
The Refrigerator Is Too Dirty
Your refrigerator needs cleaning at regular intervals. If the dust is not cleaned on time, it may accumulate inside the unit and reduce the cooling capability of your fridge. So, make sure that you clean the drawer, the refrigerator shelves, etc., regularly to avoid any problems later. Also, clean the condenser coils of your fridge at regular intervals to enhance the cooling capacity of your unit.
D & J Appliance Repair Offers the Best Refrigerator Repair
Our technicians are highly trained, skilled, and experienced. They understand your requirements to provide cooling adequately and fix problems quickly before it's too late. We're available 24/7 at 954-709-7400 for any emergency services that you need. So, don't wait until your refrigerator fails to provide cooling. Call us now to fix your problem.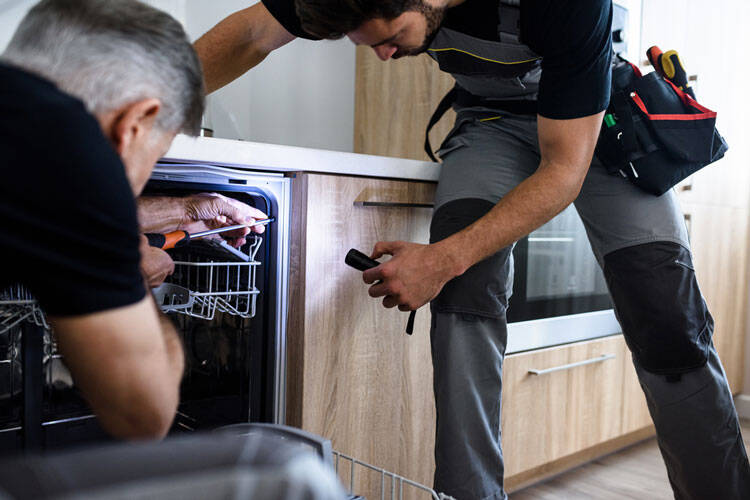 Several things can go wrong with your dishwasher. If you're familiar with some of these common problems, it can be easier to determine when to schedule a dishwasher repair service.
Leaking Spray Arm
If you notice water leaking from the dishwasher's spray arm base, it probably means that the hose connecting this component to your sink is either loose or disconnected. If you can stop up a nearby sink and determine that there's no blockage in the hose, then an expert needs to come to your home.
Without enough water pressure or pull, this hose will not deliver adequate cleaning power to the dishwasher's interior. When you set the machine up for its next run, you might notice that nothing happens when it should be spraying out soapy water onto dirty dishes.
Floating Door
The seal around the door helps protect the contents of your dishwasher from becoming wet. Without a seal that tightly hugs the door to your dishwasher, water can drip down into the machine's interior.
When you notice this problem, it could mean that your door isn't closing properly. If you happened to bump into the dishwasher when it was open, this could also cause the problem. Look for other signs like corrosion or rust on certain parts of your machine, and then take steps to fix the issue with an appliance repair technician before something breaks.
It Doesn't Get Your Dishes Dry
The water needs to be at a certain level to trigger the machine's drying process. If the water seems too moist or you notice pools inside your dishwasher after its cycle is complete, then this might be a sign that there's something wrong with the water pump.
If you notice this problem, it could be due to one or more clogs in the machine's drain hose. It might have been damaged from the excess pressure of a clogged filter.
Low Water Pressure
If your water doesn't have enough force behind it to push the soap through the spray arms, then soapy residue will remain on the dishes after they've been through the wash cycle. You can fix this problem yourself by using a hose or bucket to add more pressure behind the water coming out of your faucet until it's at an acceptable level.
If you notice this issue with your dishwasher, you might not be able to solve the problem yourself. You might need a dishwasher repair expert to come and install an additional pressure-boosting device on your home's water line.
Call D&J Appliance Repair When Your Dishwasher Needs Proper Attention!
When you notice these problems with your dishwasher, it's time to call a repair expert. The technicians working for D & J Appliance Repair have the skills and training needed to replace or fix any component of your dishwasher. When you hire us for our services, we guarantee a speedy response. Call 954-709-7400